Abac Compressors
Whether you're a one man band or a large workshop, we offer a wide range of compressors to suit your needs.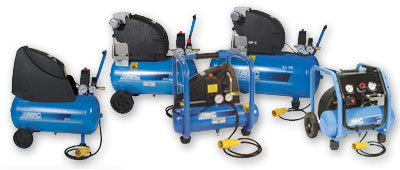 Tradeline
These durable high quality compressors have been specially designed for use where regulations and the general need for operator safety demands the use of lower voltage equipment, eg. Site use, construction industry, flooring contractors and shop fitting etc.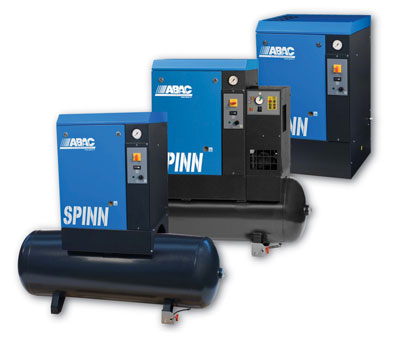 Spinn
- 5.5 - 11kW
- Patented High efficincy air end
- Reducted Power consumption
- Standard safety features
- Low maintenance costs
- Continuous duty
- Automatic control
- Low noise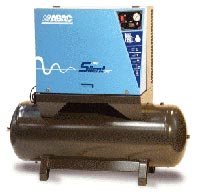 LN Series Silent
The ABAC offers range of silent piston compressors are belt driven, automatic controlled and feature low noise, acoustically designed cabinets, genuine ABAC compressor pump units and superior cooling for increased efficiency and improved outlet.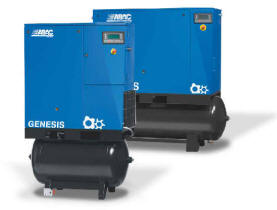 Genesis
A unique solution comprising of an encapsulated screw compressor, dryer, pre-filter, final filter, electronic drain all mounted on a 275 or 500 litre air receiver, ready to be installed and connected to the mains and air supply.

Formula
Using unique technology and fitted with the latest generation of Rotary Screw Compressor Air End, this sophisticated compressor comes complete with MC2 Microprocessor and self-diagnostic facility. It's simple, compact design requires lower maintenance costs. It is simple to install, rugged, reliable and very efficient.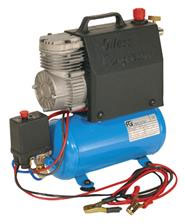 Koala
Perfect for the home enthusiast that wants a professional quailty of equipment. The ABAC range of direct drive air compressors represent the most popular, durable, efficient and reliable product in this sector. Designed to offer the user with smaller compressed air applications the ideal air compressor for semi-professional and 'do-it-yourself' use.


Redline Beltdrive or Directdrive

The new Redline range of air compressors from ABAC represent an economical solution for smaller users of compressed air with all the advantages associated with the most trusted brand in piston compressor technology. Comprising 4 direct-drive models and 4 belt-driven models up to 4 kW, this cost effective range of compressors is aimed at the customer looking for a high performance and economical unit with the quality, assurance and support offered by the ABAC brand.